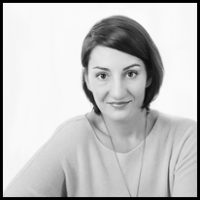 Denisa Tomsa
0476/03.82.43
Psychologist recognized by the Romanian College of Psychologists, Belgian Commission of Psychologists, adherent member of the Union Professionnelle des Psychologues Cliniciens Francophones, member of International Centre For Clinical Excellence. My core training is in Collaborative Short Psychotherapies.
For more than 14 years I have been involved in socio-educational projects, projects of organizational development, personal development, which made me get in touch with people from varied social, cultural categories. I travel a lot (visiting so far no less than 44 countries) and when I do this, I like to take not only photos, as memories of how many beautiful places are in the world, but also stories of what makes us similar, what makes us different, how people from those places see success, love, relations, loss, drama, life meaning.
I graduated Psychology at University of Bucharest, Romania and I did my trainings and workshops in Romania, Belgium and UK. I combine my core method with elements from family systemic therapy, constellations, psycho-trauma and theory of attachment. I combine more methods, because I want to create, for each and every person that enters the process, the necessary space for solving problems, for healing, for development.
My role, as psychologist, will be to be next to you, to accompany you and to make available my knowledge, my experience, to show empathy and compassion, curiosity and an open mind, common sense, sense of humour, respect, involvement and confidentiality. What I will not do is to give advices, tell "what should be done" and also not to "walk in your shoes" on your way to self-discovery, healing, development. If you are going through certain life difficulties (for example, because of a crucial change, or if because you feel "stuck", professionally or personally ) and you experiment :
depression,
anxiety,
burn out
difficulties in dealing with stress (or with stressful situations),
sadness, guilt, fear, loss of life meaning,
difficulties in relations with others; emotional difficulties,
difficulties in taking decisions,
than I am here to talk and work about it together in order to see what can be done.
You can come also if you would like to develop yourself more, to figure out what you could do further in your life (with the resources you have at that moment).
I work mainly with adults, but also with adolescents.
During the process, my approach is based on: identify the main issue/s; focus on resources and solutions; determine, together, the objectives we will work on; evaluate the results and the progress of our work; adapt the working style to the needs to the person who is in front of me.