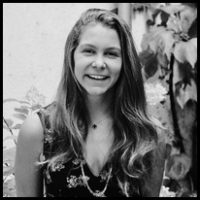 Margaux Broux
0491/63.12.23
.
My name is Margaux, I am a Franco-American licensed psychologist. I obtained my Bachelor's degree in Psychology at McGill University in Canada and my Masters in Clinical Psychology and Integrative Psychopathology from the University of Bordeaux in France. Having a passion for traveling, it enabled me to enrich my personal and professional life by discovering different techniques such as mindfulness, relaxation, yoga, sophrology, hypnosis and many more. I am continually on the lookout for new techniques that will enable me to accompany you best.
I mainly work with cognitive behavioral therapy (CBT). A therapy that has been proven to be "evidence-based" for: eating disorders, mood disorders, relationship difficulties, lack of confidence/self-esteem, emotional management, etc. It is a therapy which works on 3 axes: thoughts, emotions and behaviors in order to break free from vicious cycles that keep us in patterns of suffering. To complement this therapy, I also use tools from Acceptance and Commitment Therapy (ACT), Dialectical Behavior Therapy (DBT) as well as Systemic Therapy.
I specialize in the management of eating disorders such as bulimia, anorexia as well as binge eating disorder. I can also accompany you if you have other difficulties such as: you think about food all the time, you have a chaotic diet, you alternate between phases of restriction and compulsion, diets don't work for you, you do not like your body, etc.
I offer individual sessions for adolescents and adults. The first consultation allows us to establish a first contact, see together what you want to work on and how I can best support you in achieving your goals. "Give me the serenity to accept the things I cannot change, the courage to change the things I can and the wisdom to know the difference. "(Reinhold Niebuhr) Do not hesitate to contact me, I look forward to sharing paths with you.  Margaux